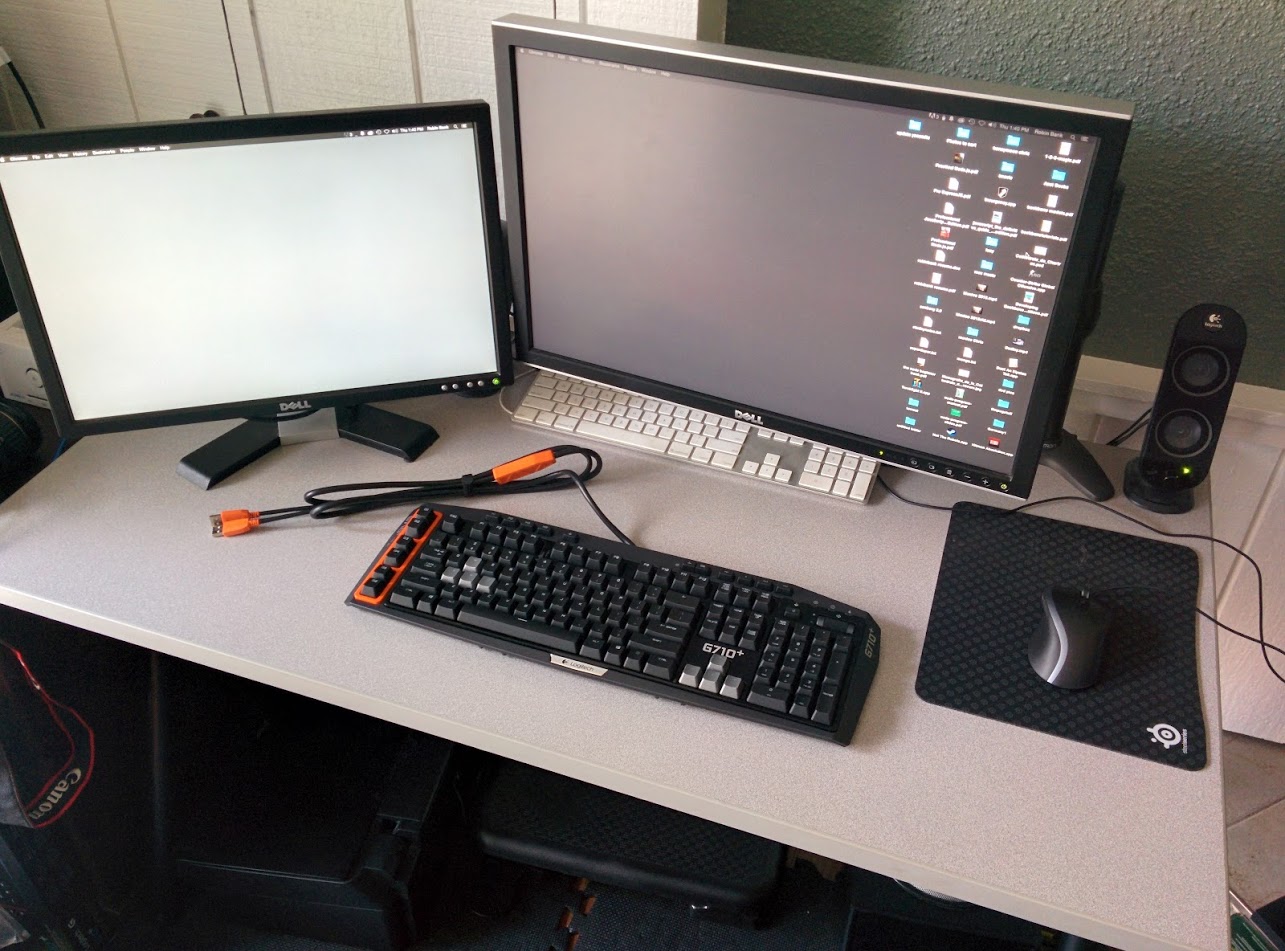 I have been trying out the Logitech G710+ keyboard to see if it can replace my current Apple Keyboard. I have had it for about an hour now and my initial impression of the keyboard is that its not bad. Its nice to finally see what all the fuss about mechanical keyboards are about. There is lots to love and hate about this keyboard and the decision of keeping it or not will depending on if I can't find suitable work arounds to its quirks.
Things I like about it:
– Typing 'feel' is an improvement over the regular keyboards
– Individual volume wheel
– Hundreds of extra programmable buttons
– LED backlight
– Solid heavy weight
– Arm rest is comfortable
Things I don't like about it:
– Looks a bit janky to my eyes
– Keybinding doesn't seem to work reliably
– Craptastic Logitech software
– Keys are a bit loud
– Hard to find the escape key
– Its pretty big, taking up lots of desktop space
So right off the top I had an issue with the Logitech Software I had to install to make the extra keys work. The installation software wanted to reboot my hackintosh and ended up hanging until I force rebooted. Not a reassuring start. Once rebooted, I fired up the app that configures the extra keys and found it very slow to load. It was easy enough to assign Sublime Text and the browser to load on the extra "G Keys". However once I closed the Logitech App, the keys no longer load the assigned apps. I will have to come back to this later and see if I can figure out the issue.
Seeing how this is a 'gaming keyboard', it obviously is meant to be used with Windows. I will test it out with gaming later as I spend the majority of my time in OSX. The keys on this keyboard are the standard Windows keyboard layout such that the typical Mac Option and Command keys are labelled the Windows key and Alt. Unfortunately the position of these keys are reversed so a quick Google search showed me how to reverse the key mappings.
This keyboard is big. I had my heart set on a 10 keyless design so I could free up more space on my desk for my mouse but ended up jumping on logitech sale on BestBuy. The usb cord is pretty thick and seems to retain its coiled shape instead of tucking neatly under my monitor.
Keybinding. I think this is my biggest disappointment. If I can't get any use from the extra macro keys then I am not sure if I want to keep this keyboard.
*Update*
After a week of use, I ended up returning the keyboard and going back to my old apple keyboard.
I just couldn't get used to the placement of the escape key. I never noticed how often I hit the escape key until now when I would inadvertently hit top right most macro key instead. This annoyance plus the fact the macro keys would forget their bindings on my mac was the last straw.
There are a number of keyboards I have my eye on at the moment.


The Corsair K70 keyboard This is the most similar to the Logitech G710+ feature set but looks a bit better in my opinion.

Coolermaster Rapid Fire This is the 10keyless keyboard I think I would be happiest with.